Close-up with Tammin
What's in your fridge at home?
Soy milk-because my mum and I are lactose intolerent.Alot of soy.Our kitchen has a lot of cereal.I'm really into com things at the moment.A lot of fresh fruit and vegetables.We're very healthy and very clean at our house!

What would be the first thing you'd grab from your house if it was burning down?
I have this toy dog I've slept with since I was two years old and my arm is permanently moulded into it's shape! It's name is Candy and it's a pink dog that I brought when I was two-years-old.

What colour is your toothbrush?
Blue.

Of all the people who know you,who do you think knows you best?
My mum and dad.

What's the most-dialled number on your mobile?
Umm,at the moment I probably call my mum all the time.S o,my mum's mobile.

What do you order at McDonald's?
Chicken Nuggets with sweet and sour sauce.

What did you get for your last birthday?
I got my room decorated.I'm very into the whole Asian theme.I've got scrolls and one of those waterfall things and the stones and cactuese.It's very relaxing.

What can't you leave home without?
[giggles] Probably my mobile!
What's the worst thing you have ever done for a dare?
We used to play Truth or Dare all the time! Probably...I don't know.I can't remember.I'm not a very daring person! I just remember that once we all ran up the street in bra and undies for a dare.[starts to laugh]It was dark! It was someone else's street and we were having a girl's night.It was dark and she lived near the bush,no-one saw us! It was me and a couple of others.

What's the most scared you've ever been?
When I was in the cyclone in Noumea.We were in the tip of the cyclone but we were under our beds.We were on holidays there so we were there an extra week-and-a-half.No planes could fly out.That was when I was in Year Five.
What's been your greatest holiday?
Europe,last year.I went with my mum and my dad.My brother had to stay at home because he had exams.We went to France and then we went to Italy.Venice was my most incredible place.It was summer and it was just beautiful.I bought a lot of things-glass and leather and a lot of jewellery.We shopped until we dropped! The French food was more like what I'm used to,like salads and coffees but the Italian food was pretty heavy.It's a holiday I'll always remember.I'm trying to save up now with my best friend to go at the end of this year!

What's your earliest memory?
When I was about three years old and my mum was taking a photo.Me and my dad were smiling and I thought,"I'm going to make this photo stand out."I remember getting a water flask while the photo was being taken.The photo is just of me throwing water at my dad and my dad just screaming.I remember the actual thought that went through my mind.It was taken in South Africa where I was born.

What's the most embarrassing thing that's ever happened to you?
I fell down the stairs when I was in Year Seven! Like, from the top of the stairs in the shopping centre to,like,the bottom.It was so embarrassing.I was OK,I was just really embarrassed.I was with my boyfriend at the time.That was my first boyfriend and I was tryimg to impress!

Something people don't know about me is...
My mum used to be a famous singer in South Africa.A while ago.She released a record.Every time I say that,people go,"Wow!" I sing also.One day,hopefully,I'd love to be able to release something that everyone enjoys.I like something you can sing but has got a beat to it.I'd like to do something that's a cross between,like Macy Gray and Destiny's Child and Jennifer Lopaz.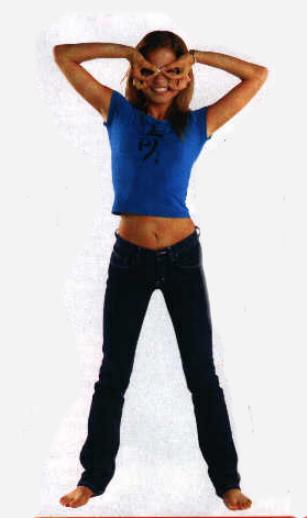 If I won an Oscar,my speech would be...
I'd like to thank,firstly,my mum and dad for doing anything in their possible power to get me where I am and for the people who have supported me the whole way and especially my fans because if I didn't have fans I wouldn't be here right now.

If I could pick any guest star for my character to kiss.I'd choose...
Can I have three?Brad Pitt,Stephen Dorff and Heath Ledger! I've never met Heath,but we did a Patriot shoot and Zac[Drayson]got to wear Heath's clothes.It was pretty close to him...but not quite!

If I was in trouble,the first person I'd call would be...
My mum and dad.

If I could buy anything at all,I'd pick...
A little romantic villa in Tuscany.[bursts out laughing]

Who's your favourite member of the Backstreet Boys?
[grabs a copy of big hit and points at Nick Carter]That one! Nick!

What are your plans for this year?
To be really dedicated to what I'm doing.To put a lot of effort into it.I want this year to be,like,a learning year.Learn about places,read and just expand my intelligence,because there's a lot of time spent waiting around on set and I'd like it to be productive.

How did you spend your last summer holidays?
In Hawaii! Two weeks with my family.It was very exciting.We stayed at Waikiki Beach.

Who's the most famous person you've met?
I met Ernie Dingo once! Just all Channel 7 people,I guess.I haven't really met anyone before that.

Which famous person would you most like to meet?
I'd like to meet someone who's really talented,like a Mel Gibson.Someone who has lasted and isn't a fly-by-night.
INTERVIEW: CAROLYN STEWART
PHOTOS:STUART BRYCE
THANKS TO BIG HIT MAGAZINE...

Bec talks top togs...
What clothes do you like?
"In summer I love wearing comfortable shorts and singlet tops.In winter it's black comfy tights or jeans with woolly jumpers!"
What do you slob out in?
"[laughs] A really comfy pair of navy blue trackies or my Pooh pyjamas!"
You've got a special night out- what do you wear?
"Oh,black pants and nice tops that don't make you look too dressy or underdressed.I was into three-quarter-lenght dresses this summer."
Describe your style...
"Normal,Comfy,casual,trendy-classic,no frills."
Who's your fave designer?
"Girl Star are excellent-they do surf clothes.All the surf brands like Billabong,Rusty are great.I don't know the trendy grown-up labels."
Who's the best dressed soapie?
"Oh,Bree Desborough looked stunning at the Logies-she looked absolutely gorgeous!"
INTERVIEW:NICOLE ROBINSON
PHOTOS: JULIA MORRELL
THANKS TO TV HITS MAGAZINE...
Profile on...
Tell us about your fist audition with H&A?
I was 13-years-old and I went for another character but I didnn't get it. I wasn't too upset because it was my first major audition. A year later I auditioned for the role of Hayley and got it. I was sooo happy!

What was it like when they told you that you got the role?
It was a dream come true! I was so excited, but nervous at the same time. When I met all the cast, they were so nice, I realised I was going to love this job.

Have there ever been any embarassing moments on the set?
Yes, loads! I've tripped and fallen heaps of times, but everyone just laughs about it!

Who do you hang out the most with on the set?
I hang out with Zac Drayson the most, I guess,'cause he's Hayley's big brother. It just depends on the day of filming. We all get on really well and have sooo much fun.

What is a day on H&A like for you?
Sometimes they can be really long. I work from seven in the morning and finish at eight that night.
I get the script a week before so I can discuss with the director where they want me to stand and move. It takes two or three times to get it right. I ask Kate Richie, who plays Sally, for advice on things because she's been on the show for so long. She's great.

What's Hayley like?
She's very loyal and determined, and doesn't stay in situations where she's not happy. When Hayley's family split up and the kids were sent to foster care, she ran away to find her big brother, Will, who was living in Summer Bay.

You've been playing Hayley now for nearly two years. How much do you have in common with her?
We both believe in the importance of trust, but we certainly don't dress the same! I look very different to Hayley when I'm away from the set.

What sort of advice would you give someone who wants to become a famous actress?
Remain true to your heart and keep pushing yourself. Always keep trying to learn new things. Since working on Home and Away, I've had the chance to learn so many great things!

STORY FROM BARBIE MAG [2000].